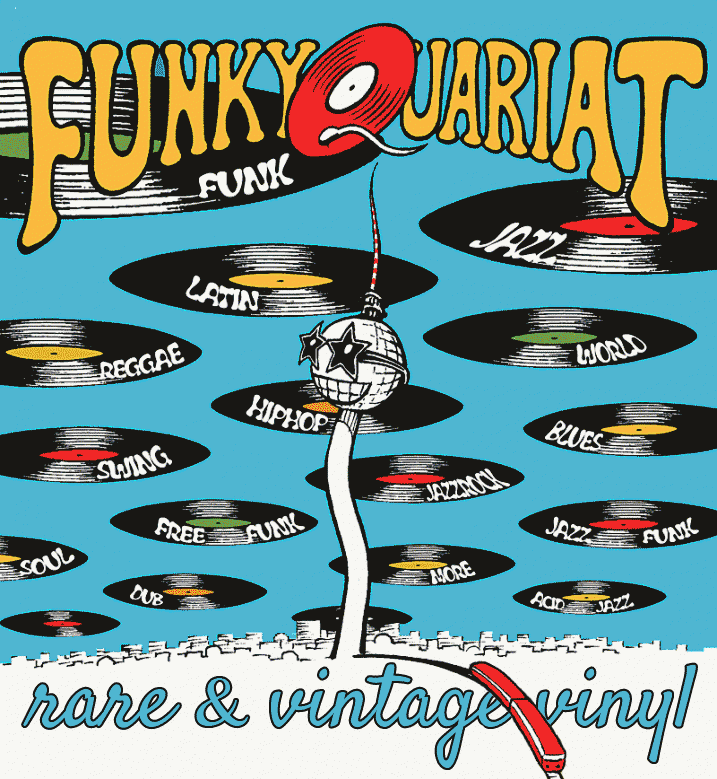 Antiquariat Versandhandel für Vinyl Schallplatten/Records neuer und alter LP's, Poster, Plakate, CD's, MC's, Specials aus Berlin-Mitte und der einzige Lieferant für Drumsticks 'Speck Spieße'
Das funkyquariat, der legendäre Schallplatten-Laden in Berlin-Mitte, ist seit 2013 ein Online-Shop. Hier bieten wir Euch seltenes und gesuchtes Vinyl zu fairen Preisen – ganz entspannt vom Sofa aus. / The funkyquariat, the legendary record store in Berlin-Mitte, is since 2013 an online store. Here we offer you rare and sought after vinyl at fair prices – completely relaxed from your sofa. …….in 7 steps on your turntable -> Sign-Up (incl. Country) | Bestellung | zur Kasse | Versandauswahl | Bezahloption | x AGBs | Kaufen
Im funkyquariat findet Ihr Musik so gut wie aller Genres, vor allem schlägt unser Herz aber für alles was  funkt. /  In funkyquariat you find music as well as of all genres, especially, our heart beats but for everything what is funky.

Weshalb sind wir fair? / Why we are fair? / Deshalb sind wir fair ! / That is why we are fair !

1. Alle Platten oder Artikel können innerhalb von 30 Tagen umgetauscht werden ! / 1. All records or items can be exchanged within 30 days!
2. Alle Probleme oder Anfragen können auch direkt wie in einem Ladengeschäft telefonisch geklärt werden ! / 2. All questions or problems can be resolved directly by phone as in a store !
3. Alle Ränder der Plattencover sind auf dem Foto`s erkennbar ! so, dass der Grad der abgestoßenen Kanten (Abnutzung), auch erkennbar oder einschärtzbar ist ! / 3. All edges of the vinyl-cover is recognizable in the photo`s ! so can also be seen or to assess the degree of chipped corners (wear) !

PREISE / PRICES  LP 12″ ab/from 4,-€    /  7″ ab/from 2,-€
Sollte dennoch eine Platte / Record zu günstig oder zu teuer erscheinen so ist dies nicht nur vom Zustand oder der Auflage sondern auch vom momentanen Angebot oder dem EK (Einkaufspreis) abhängig und verhandelbar !
funkyquariat ist der einzige Lieferant von Speck Spießen
/ funkyquariat is the sole supplier of Speck Spießen,
einem Set – – – /// – – – von drei Spezial Schlagzeug-Sticks / a set of three special drum sticks. Speck Spieße sind eine Innovation im Schlaginstrumente-Zubehörmarkt und werden vom Erfinder Dr.Cone Ventilato in Berlin handgefertigt / are an innovation in percussion accessories market and are made by the inventor Dr.Cone Ventilato in Berlin handmade.
Speck Spieße  auch / or Speck Spiesse
Achtung !!  Verkauf von Schellackschallplatten (78 rpm breakable) nur auf Anfrage und bei Abholung möglich / Attention,Caution !! Sales of shellac records (78 rpm breakable) only on request and at pick-up.
VERSAND / SHIPMENT DEUTSCHLAND GERMANY / EU / INTERNATIONAL